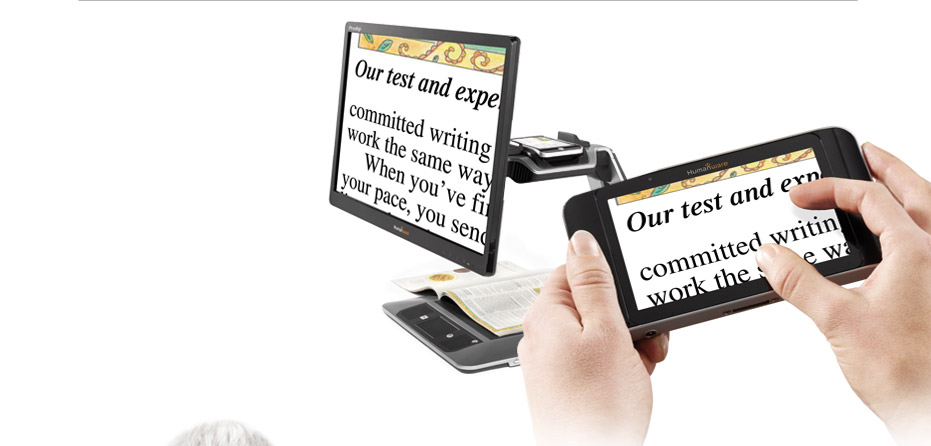 HumanWare Announces Prodigi
A Breakthrough for People Living With Vision Loss
Drummondville, July 16, 2013 – HumanWare announces Prodigi, the world's most advanced, all-digital personal vision assistant for people with low vision conditions such as macular degeneration, diabetic retinopathy, glaucoma and other eye diseases. HumanWare has designed Prodigi to be a more affordable and intuitive visual aid than the traditional CCTV-based electronic magnifier.
"HumanWare is proud to introduce the revolutionary Prodigi family that finally brings low vision technology into the 21st century. Prodigi will make a big difference in the lives of an even greater number of people living with vision loss.," stated Gilles Pepin, CEO. "As we celebrate HumanWare's 25th year of assisting the blind and visually impaired, Prodigi will spread our leadership in Blindness products to the Low Vision market with the same innovation and quality we are known for worldwide."
Prodigi allows low vision users to benefit from a big-screen desktop device and a go-anywhere tablet magnifier at a lower cost than any similar system available. The portable Tablet fits into a patented docking station in the base and becomes both the camera and processor of the desktop system. Unlike other magnifiers, Prodigi captures the image of an entire letter- or A4-sized page and allows the user to magnify and read documents with a comfortable touchpad instead of moving an XY table. Pages are displayed in HumanWare's innovative Diamond Edge TextTM format, which can be magnified up to 80 times with perfect text quality. Text can be presented to the user in smooth-scrolling column or line modes, and can even read aloud, reducing fatigue caused by moving documents under a CCTV camera. Prodigi stores documents so the user can take them to read or reference later while away from his or her desk.
Training time is greatly reduced as well, because Prodigi has a built-in tutorial and setup wizard, developed in collaboration with EssilorTM, the world's leading ophthalmic optics company. The wizard guides the user through the basic functions and sets up the contrast, color scheme, reading speed and magnification levels according to his or her specific vision needs.
"Until recently, the technology behind Prodigi wasn't available" added Pierre Hamel, Vice-President of Research and Development. "But we saw it coming and have now successfully integrated the latest camera and image processing technologies into a portable platform, specifically for people living with a visual impairment."
Prodigi is available in three models: the Duo, a desktop unit with the detachable Tablet; the portable Tablet magnifier by itself, and a Desktop-only model. The product line is expected to be available from HumanWare and its network of Assistive Technology distribution partners starting in August, 2013.
Learn more about the Prodigi line of products, view photos and the video presentation.
Kurzweil 1000 Version 13!
We are pleased to announce the release of Kurzweil 1000 Version 13. Kurzweil 1000 reads text aloud delivering natural-sounding voices and quick, easy access to virtually any content for people who are blind or visually impaired.
New features in Kurzweil 1000 Version 13 include:
• Camera support for HoverCam, in addition to ABiSee's Zoom-Ex and Eye-Pal.
• ePub support that allows reading of ePub documents and the ability to write ePub documents that can be read on portable devices, such as an iPhone.
• Support for Microsoft Speech Platform, giving users access to more than a dozen additional text-to-speech voices in a variety of languages.
• The ability to choose the audio output device for a selected voice.
• OCR updates to ABBYY FineReader 10 and ScanSoft 18 which increases accuracy when recognizing documents and reduces time spent fixing errors in recognition.