ElBraille – A cutting-edge, extremely portable Braille solution with 14 or 40 cells
The ElBraille is a portable device designed for users who are blind or deaf-blind and want to stay connected at school, work, or home as well as on the go. The twenty-first century, take anywhere replacement for the dedicated notetaker, ElBraille combines the flexibility of a modern mainstream computer running the Windows® 10 operating system with JAWS® and a 14- or 40-cell Braille display with a full Braille keyboard to offer a fully accessible compact solution. (JAWS and Braille display sold separately.)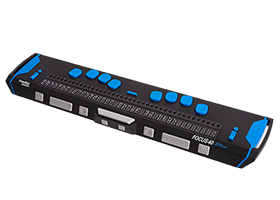 Focus 40 Blue Refreshable Braille Display – 5th Generation!

The fifth generation of the Focus 40 Blue braille display is more rugged and stronger than ever. We've built the housing from aluminum and steel, added bumpers to absorb shock, and physically isolated the Braille cells to create a Braille display to meet the demands of the active user.
And, like previous Focus Blue models, the fifth generation is lightweight and compact with a user-friendly keyboard and control layout. You can have up to five Bluetooth connections so that you can easily connect to iOS and Android™ devices such as smartphones, iPads®, and tablets. You can also use the Perkins-style keyboard for effortless Braille text input to control your computer. When you combine the Focus 40 Blue with JAWS®, you have the ultimate in speech and Braille access to your computer. The new Scratchpad feature lets you take notes and read books even when you aren't connected.
BrailleNote Touch Note Taker/Tablet – 18 or 32 Cell

More than ever, students and professionals who are blind require an intelligent device that combines the simplicity and accessibility of a note taker with the power and efficiency of a modern smartphone or tablet. Our latest solution is the groundbreaking BrailleNote Touch, the first certified braille tablet providing Play Store access.
Raising the bar for today's digital landscape
The BrailleNote Touch interface is easy to learn for both students and teachers, combining the benefits of KeySoft and braille literacy of a traditional note taker with the efficiency and power of a modern tablet. Simple Braille input right onto the touch screen!
Cutting-edge technology
Starting with BrailleNote's acclaimed design, exceptional ergonomics and outstanding reading and writing experience, our designers set out to meet your needs at work, school or home by taking the technology further than ever before:
A powerful combination of accessibility and efficiency
KeySoft user experience with the power of an Android operating system
Supports perfect braille translation in contracted or uncontracted braille, including UEB and multiple languages
Use any accessible 3rd party app with Keysoft and TouchBraille
Create professional .doc or .docx documents with KeyWord
Collaborate and share documents using Google Docs or other cloud services
Much Much More!
Braille Displays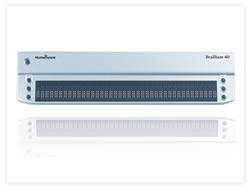 Brailliant Braille Displays are the most portable and yet most advanced Braille terminals. They're the ultimate laptop companion.
Braille displays go where you go. Slip a Brailliant into a laptop bag and you'll barely know it's there.
Brailliant connects via Bluetooth – the wireless way to work – as well as conventional USB. No plugs, no cables, no worries. In fact, you can even switch from one computer to another computer without unplugging & replugging.
Brailliant also:
Supports popular screen readers
Fits ergonomically in front of your keyboard
Is designed for use with a laptop or a desktop computer
Has a long-life battery that's smart – 25-30 hours working time with Bluetooth connectivity, 100 hours when connected via USB
Is available in 24, 32, 40, 64 & 80 Cell versions
Alva BC640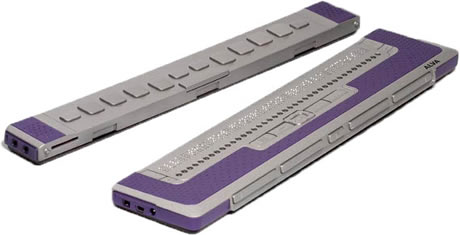 State-of-the-art Braille
Setting the standard in Braille communication, the ALVA Braille Controller 640 with Feature Pack is the first wireless display that combines classic Braille access, audio, note taking, and comprehensive keyboarding from a single device. Ultra-slim and stylish in design, the ALVA BC640 with Feature Pack is ideally suited for professionals and students, in the office, at home, or on-the-go. Featuring a smooth Braille array with 40 high-resolution Optelec Braille cells, 40 dual-function cursor routing buttons, five front-panel thumb navigation keys, 4 programmable eTouch keys, the ALVA Smartpad for enhanced navigation, stereo audio speakers, audio input, an HID-compliant Braille keyboard, integrated notepad, and 4GB of user storage, the ALVA BC640 provides unprecedented reading, writing and control at your fingertips.