BrailleNote Apex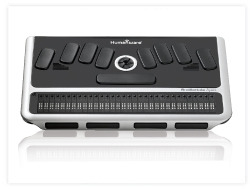 The new BrailleNote Apex puts success at your fingertips. Whether you are a busy professional or a hardworking student, today's connected, digital world is all yours with the sleek and powerful BrailleNote Apex. Availalbe in an 18 or 32 cell Braille Display
Cutting-edge technology
Starting with BrailleNote's acclaimed design, exceptional ergonomics and outstanding reading and writing experience, our designers set out to meet your needs at work, school or home by taking the technology further than ever before:
The thinnest and lightest Braille notetaker anywhere
Powerful KeySoft applications for dynamic real-time communications
NEW Windows CE 6 operating system
Extensive connectivity
Enhanced support for large documents and media files
Plug and play visual display
Convenient user-replaceable battery
Integrated real-time clock maintains time and date for 30 days without battery power
The BrailleNote QT is equipped with the same cutting edge technology as the Apex BT with the exception of a QWERTY keyboard instead of a Braille keyboard.  Availalbe in an 18 or 32 cell Braille Display


Braille Displays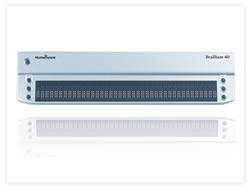 Brailliant Braille Displays are the most portable and yet most advanced Braille terminals. They're the ultimate laptop companion.
Braille displays go where you go. Slip a Brailliant into a laptop bag and you'll barely know it's there.
Brailliant connects via Bluetooth – the wireless way to work – as well as conventional USB. No plugs, no cables, no worries. In fact, you can even switch from one computer to another computer without unplugging & replugging.
Brailliant also:
Supports popular screen readers
Fits ergonomically in front of your keyboard
Is designed for use with a laptop or a desktop computer
Has a long-life battery that's smart – 25-30 hours working time with Bluetooth connectivity, 100 hours when connected via USB
Is available in 24, 32, 40, 64 & 80 Cell versions
Alva BC640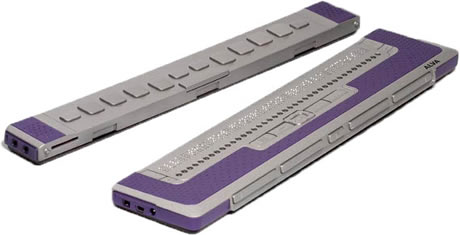 State-of-the-art Braille
Setting the standard in Braille communication, the ALVA Braille Controller 640 with Feature Pack is the first wireless display that combines classic Braille access, audio, note taking, and comprehensive keyboarding from a single device. Ultra-slim and stylish in design, the ALVA BC640 with Feature Pack is ideally suited for professionals and students, in the office, at home, or on-the-go. Featuring a smooth Braille array with 40 high-resolution Optelec Braille cells, 40 dual-function cursor routing buttons, five front-panel thumb navigation keys, 4 programmable eTouch keys, the ALVA Smartpad for enhanced navigation, stereo audio speakers, audio input, an HID-compliant Braille keyboard, integrated notepad, and 4GB of user storage, the ALVA BC640 provides unprecedented reading, writing and control at your fingertips.