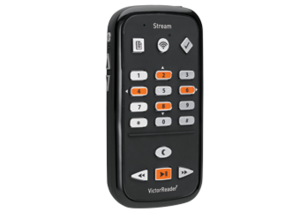 Download your favourite books and MP3s on your Stream and leave home with your library in the palm of your hand. This versatile, powerful DAISY-MP3-MP4 and NISO player lets you read and navigate through complex books, such as reference manuals and school books, as well as novels and magazines. You can also use its built in text to speech to read books in text format such as Bookshare. And that's not all… The new Victor Reader Stream is 28% Smaller than its predecessor. Its new sleek design is thinner and features rounded shapes, making it more comfortable to hold. Plus the Victor Stream offers many more functions, including an integrated microphone to record voice notes. No other DAISY player offers you so much in such a small package… and at such an affordable price.
Main Features:
• State-of-the-art DAISY, MP3, MP4 and NISO player
• Supports up to 32GB removable SD card and External USB flash drives for storing books, e-text files, music, podcasts, and voice recordings
• Read books from DAISY libraries: NLS, Bookshare, Learning Ally, iTunes, etc.
• Play text documents with built-in text-to-speech from Acapela
• Portable & Lightweight (4 ounces – 110 grams)
• Two Built-in human sounding text-to-speech voices for a pleasant listening experience
• Voice recording capability via built-in microphone or external microphone
• Playback through stereo headphones or secondary small speaker
• USB port to transfer books and music from your PC
• User replaceable Rechargeable battery providing 15 hours playtime
• Built-in battery charger (four hours for full recharge)
• Includes switchable external power adapter for use in multiple countries
• Stylish look with high contrast keys and buttons
• Attractive carrying case with belt clip
• Supported Book Types: DAISY 2, NISO Z39.86, RFB&D AudioPlus, Bookshare, NIMAS, iTunes and Audible.com
• Supported File Types: txt, html, XML, Duxbury Braille brf, Wav, MP3, MP4, OGG, FLAC, SPX, and WMA
VictorReader Stream CD Accessory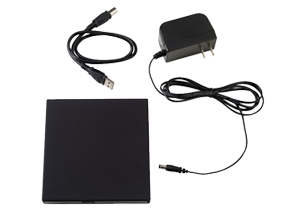 VictorReader Stream CD Accessory is perfect for people who do not have a personal computer. It is the easiest way to transfer a collection of DAISY books on CDs onto one single, portable audio playback device, without the use of a PC.