NEW – Perkins Smart Brailler
HEAR THE WORDS. SEE THE LETTERS. CONNECT THE DOTS.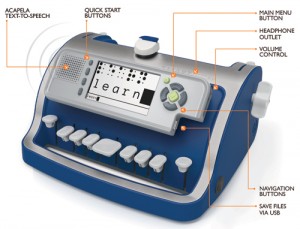 Perkins Products is proud to introduce the NEW Perkins SMART Brailler® – the evolution of the Perkins Brailler® from a low-technology, beloved classic to a high-technology learning and teaching tool. Its built-in video screen combined with audio feedback shows and speaks letters and words in real-time as they are being brailled.
The SMART Brailler, developed by Perkins Products in conjunction with the American Printing House for the Blind, opens the door to a new, more intuitive way for individuals, both sighted and blind, to communicate, teach and learn braille together. Now teachers in a mainstream classroom can see what their students are brailling. Sighted parents can help their visually impaired children with homework. And students can discover the fun in their own braille education. Sighted or blind, we can all share the learning experience and CONNECT THE DOTS!
How does the SMART Brailler do this? It includes:
• A video screen for instantaneous audio and visual feedback – displays SimBraille and print
• Text-to-speech from acapela group so the letters, words and sentences can be read back while brailling
• Ability to edit, save and transfer electronic documents via USB
• Headphone jack and volume control
• Operates as a mechanical brailler for extended use
• Rechargeable and removable battery

Perkins Next Generation Brailler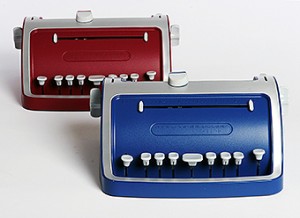 Less Force. Less Weight. Less Noise. More Possibilities…
The well-loved Classic Perkins Brailler® has been reimagined, retaining all the attributes that made it the most widely-used braille writer in the world. We've also added new features that make our Next Generation Brailler more portable and easier to use.
Features:
• More portable due to its lighter weight and smaller size
• More comfortable to use with less force required plus keys are lower and easier to reach
• Quieter – Keystroke noise is reduced, plus the end-of-line bell is audible but muted
• An Easy-Erase Button so you can correct mistakes while brailling
• A Reading Rest so you can proofread the page with ease
• Front Panel Margin Guides so you don't have to reach around the back
• Paper-Feed Knobs are easier to hold and turn
• Greener construction through the use of less oil and manufactured materials
• Modern colors and a sleek, new design

Perkins Standard Brailler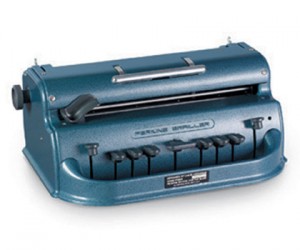 The Standard Perkins Brailler will meet the needs of most people. This classic design is sturdy and portable and can emboss 25 lines with 42 cells on an 11″ x 11 1/2″ sheet of paper.