JAWS 16 for Windows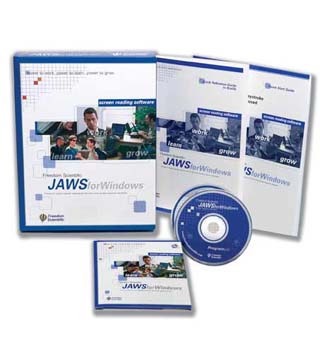 JAWS (an acronym for Job Access With Speech) is a screen reader, a software program for visually impaired users, produced by the Blind and Low Vision Group at Freedom Scientific. Its purpose is to make personal computers using Microsoft Windows accessible to blind and visually impaired users. It accomplishes this by providing the user with audible access to the information displayed on the screen via text-to-speech speech synthesizer and/or by means of a Braille display and allows for comprehensive keyboard interaction with the computer.
It also allows users to create custom scripts using the JAWS Scripting Language, which can alter the amount and type of information which is presented by applications, and ultimately makes programs that were not designed for accessibility (such as programs that do not use standard Windows controls) usable through JAWS. 


*Professional JAWS custom scripting services are available through AbleTech*


GW Micro Window-Eyes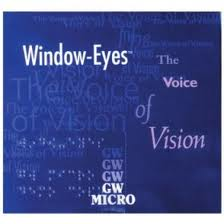 Window-Eyes puts you in the hands of the most powerful screen reading software ever created.
Window-Eyes gives total control over what you hear and how you hear it. Plus, with its enhanced Braille support that control is extended to what you feel as well. On top of all that, the power and stability of Window-Eyes means that most applications work right out of the box with no need for endless tinkering in order to get them to function properly.
Window-Eyes is a leading software application for the blind and visually impaired, which converts components of the Windows operating system into synthesized speech allowing for complete and total access to Windows based computer systems. Window-Eyes integration into Windows is seamless, providing you with instant access to the operating system without having to learn a complicated set of keystrokes.
Applications that utilize standard Microsoft controls will be spoken automatically with little to no configuration necessary. Other applications may require simple modifications to Window-Eyes whose options are easily accessible via a well organized, speech control panel.
System Access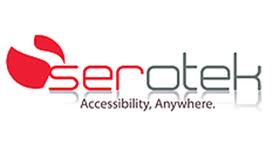 Serotek's System Access software brings you accessibility anywhere, and is available in configurations to meet every lifestyle and budget.
Whether you're composing a document or spreadsheet, keeping track of appointments, or surfing the web, System Access provides intuitive and affordable access to all Windows-based applications.


System Access To Go
Serotek has teamed up with the AIR Foundation (Accessibility is a Right) to offer a web-resident version of our screen reader to users completely free of charge, making any computer with Internet accessible in seconds. Simply visit www.satogo.com and create your free SA ToGo account. Once you are logged in, use the Install System Access option under My Account in the System Access menu to begin enjoying Internet screen reading at any computer you use.
Dolphin Guide Large Print & Talking Software Suite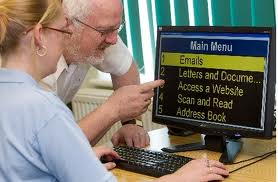 Computers don't have to be complicated! Dolphin Guide is a simple step by step large print & talking computer program for people visually impaired, blind and/or that are new to computers or find computer learning difficult. Popular with seniors, Guide is easy to learn and includes everything you'll need to get started. Never get lost or confused! Guide keeps it simple, with talking step by step instructions and choices that Guide you through to guaranteed computer success!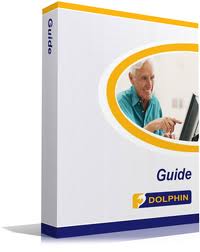 Get started with Dolphin Guide & soon you'll be:
• Emailing friends and family
• Writing Letters
• Surfing the web
• Reading your own post
• Playing computer games and much, much more!