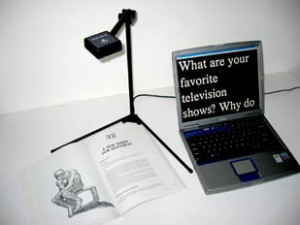 Eye-Pal: Converts print into speech and Braille for the blind or deaf-blind
Faster than a flatbed scanner and weighing in at just 1 lb., Eye-Pal is a portable USB scanner/reader that instantly converts printed material into speech, text files or refreshable Braille. Eye-Pal may be used with the most popular Braille displays from Optelec, Humanware, Freedom Scientific and Handytech.
Eye-Pal and Zoom-Ex are now compatible with Kurzweil 1000

With Eye-Pal's intelligent design & engineering, it doesn't get much easier than this.
We designed simplicity and ease of use into all facets of this instant scanner. Eye-Pal has two lightweight legs that pivot into an L-shaped position from their compact carrying position. This securely supports the Eye-Pal, assuring that its scanning camera is always at the exact distance to obtain a crystal clear image. It also serves as a tactile guide for blind users to precisely position the material to be scanned. No camera focus adjustments are ever necessary.
Text can be saved as a text file for future editing or save as an audio file and carry it with you by uploading it onto your iPod, Victor Stream. BookSense, flash drive or burning it onto a CD.
Eye-Pal's patented motion detector can scan up to 20 pages per minute in a bound book. Just turn a page in your book and wait for the shutter sound. Turn the page again. It's that easy. With a single keystroke, you can easily start and stop scanning or reading or get the description of the page layout spoken as a sighted reader sees it and you can instantly read text placed under the camera using a Braille program.
Eye-Pal Reader: Instant reading device for vision loss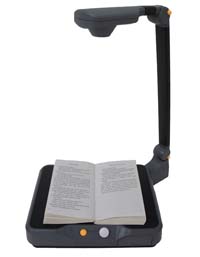 The Eye-Pal Reader enhances independence and enriches lives. The Eye-Pal Reader reads aloud almost anything printed; books, newspapers, magazines, mail, and cookbooks, quickly and easily. It's so simple to use that anyone, from an 80 year old blind grandmother to her three year old granddaughter, can use it right out of the box. We developed the Eye-Pal Reader to enable anyone who is blind or visually-challenged to easily "read" the content of any printed text by listening.
Take Reader out of the box, plug it in, place a document, book or newspaper on the base of the device and, within seconds, you will hear it read aloud. To read another document, simply replace the current document with a new one. The placement of the page does not matter, so you can turn your document in any direction. There are no complicated controls; just simplicity, speed and accuracy.
Zoom-Ex: Portable scanner/reader with real-time magnification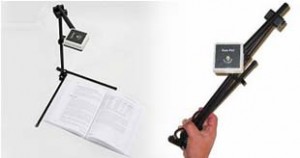 Zoom-Ex is the seamless integration of an instant digital scanner and a lightning fast OCR. It allows you to convert any printed text into multiple accessible formats such as speech, large print, sound or text files, within seconds. Zoom-Ex is easy to use. The foldable stand holds a digital scanning camera that is always at the exact distance needed to create a clear image. Low-vision users can touch and feel the L-shaped edges of the stand to know exactly where to place the document to be read.
Eye-Pal and Zoom-Ex are available in either PC or Mac editions.