Now compatible with Kurzweil 1000 V13 and Serotek DocuScan Plus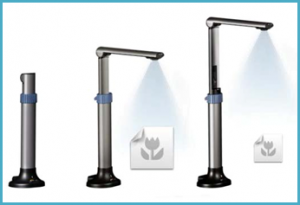 Save Desk Space
The T5's extended arm holds its 5 megapixel scanner. It can be folded and telescoped down into the post of the scanner. Fully compacted, it stands approximately one foot tall and fits nicely into a briefcase, backpack or laptop bag.
The HoverCam T5 scanner has a telescoping neck. In contrast to a goose-neck design, you do not need to reposition the item beneath it when lowering the camera. With a goose-neck design, the lower the camera moves, the further away from the camera's base it goes. With the HoverCam T5, there is no need to adjust the document under the camera when using its mechanical zoom.
Superb Image Quality
You can expect superb image clarity from the HoverCam T5. Its 5 mega-pixel camera is superior to many high end scanners twice its price.
Many document cameras need to re-focus when there is a change under the camera. The focus ring allows for constant focus. The T5 does not need to be adjusted every time an object moves under the camera.
The HoverCam T5′s patented digital SmoothZoom technology uses the processing power of your computer to zoom in and out with the spin of the mouse wheel. Along with its ability to scan legal sized documents, the T5 is a versatile office device.
Anchoring Bumper
The user places documents under the HoverCam in any way desired. However, this means that a document may not always be straight. The anchoring bumper solves this problem for you. The anchoring bumper is an L-shaped device placed at the edge of the document. HoverCam Flex software recognizes the anchoring bumper and automatically straightens the document. It makes scanning a no-brainer.
Scans up to 11" x 14"
Some users need a dedicated scanner for large detailed images. If you want to capture large documents or books at the highest quality, the T5 is for you. Business professionals, medical offices and librarians agree that the T5 is simple, affordable and convenient.