A new concept in reading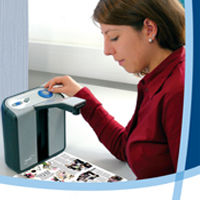 Rediscover the joys of reading anytime and anywhere with the Optelec ClearReader+, combining fast text recognition, a choice of high quality naturally sounding voices, and, all in an attractive portable design
To read any printed text by dictation, the Optelec ClearReader+ device integrates ease-of-use with a high-quality, multilingual voice output and fast optical character recognition (OCR) and text-to-speech recognition technology, all within a sleek and retro design. With only five controls, the Optelec ClearReader+ is one of the most intuitive and user-friendly text-to-speech devices available
Access to printed documents such as magazines, newspapers, books or a letter from a friend has never been so easy. Portable and battery powered, the Optelec ClearReader+ assistive technology device can be used in the home, at school or work, making it ideal for reading a recipe in the kitchen, reading a book at home, or reviewing bills
To operate, simply power on the unit, release the camera arm and place the reading material under the high-resolution camera. Press the scan button to take a snap shot of the text, and in seconds the Optelec ClearReader+ will read the desired text in high quality speech.
Additionally, the Optelec ClearReader+ is easily customized to read text at different speeds, in up to twelve different languages and twenty-three different voices.

Highlights include:
Camera: High-resolution camera with state-of-the-art wide angle optics and integrated object lighting.

Text recognition: High-quality, multilingual text recognition for the user to click and read in a few seconds.

Languages: Four languages installed with 12 languages supported, including English, Spanish, French, German, Italian, Russian, Polish, Swedish, Norwegian, Danish, Finnish and Dutch.

Voices: Support for 23 voices and choice between male, female or different dialects and regional accents.

Battery and Power: Integrated Li-ion batter for five hours of continuous use.

External Buttons and Controls: Forward/backward, play/pause, speed, scan, volume, on/ off.

Connections: Headphone and power connectors.

Portable: Foldable carry handle and built-in stereo speakers.