PEARL Portable Reading Solution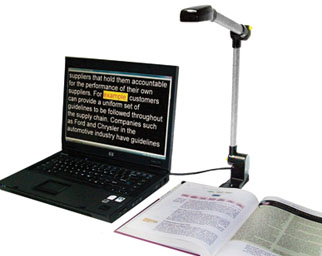 Bringing Portability to Scanning and Reading
The PEARL brings blind and low vision users instant portable access to printed material with an array of human-sounding voices. The folding camera deploys in seconds to connect to your PC and snap a picture of your reading material.
Customize your viewing
With so many features for those with macular degeneration, diabetic retinopathy, and other causes of low vision, you can tailor the appearance of text on your screen (font style, size, character spacing, and color), view with split-screen and compare your original document and OCR conversion results, use Masking and Word Spotlighting to help you follow text as it is read, and more.
Lightning Fast OCR
The PEARL expands the features of OpenBook 9.0 to provide instant OCR. Press a keystroke to snap a picture, and hear your book read back to you with Eloquence or one of the human-sounding voices from RealSpeak Solo Direct®. You control the reading rate and voice.
Read All Kinds of Documents
Use the PEARL to read books, newspapers, magazines, and bills. OpenBook identifies columns and places them in logical reading order. Change the language setting to read foreign language documents with native speaker voices.

Take it with You Anywhere
The PEARL sets up in seconds to provide a stable platform for the camera with alignment features to ensure you capture a good image every time. It runs off a single USB port – no battery or external power supply required. The PEARL folds into a compact 14″x 3″x 2 1/8″ package and zips into its protective neoprene case – slip it into a bookbag or briefcase.