Not all keyboards are the same. Various keyboards address the ergonomic needs, physical stature, abilities and typing skills of the user.  Repetitive strain injuries, carpal tunnel syndrome and associated discomfort when typing can potentially be alleviated with the correct keyboard choice. AbleTech carries a variety of keyboard options for this purpose. Here are just a few examples. If you are looking for something you don't see, let us know. We can help!
Adesso Wireless Ergo Keyboard w/Mouse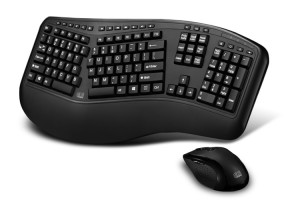 The Adesso Tru-Form Wireless Ergonomic Keyboard & Mouse offers two advanced input devices with ergonomic design, multi-functional features and a wireless range of up to 30 feet. The split key zones and sloped shape of this keyboard is designed for the natural position of hands, wrists, and forearms to maximize comfort for extended periods of use. The included wireless laser mouse also provides a comfortable ergonomic design and is equipped with a switch for DPI resolution adjustment (800/ 1200/ 1600) and two Internet navigation buttons.
Adesso Tru-Form w/Touchpad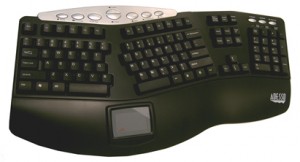 This keyboard features a fixed split design and a built in touchpad. This keyboard features ultra high resistance tactile membrane keyswitches which provide strong feedback while typing. The Adesso Tru-Form Pro also offers multimedia keys that make this keyboard a multi-featured keyboard that combines a host of Windows and multimedia shortcuts and controls in one design.
Big Keys LX

This keyboard features easy to target 1″ x 1″ keys, and are the only keyboards which offer full 101 key keyboard functionality with a large key keycap. All BigKeys keyboards are hard-wired to be switchable between ABC and QWERTY layouts, and you can rearrange the keycaps to match custom layouts you may have created in your operating system or software. The Function Keys are generated by pressing and holding the 'F' key and then the number key for the function key required i.e 'F'&'7′=F7. Available accessories include protective skinguards (to prevent against damage from spills, etc.) and rigid plastic keyguards are available for individuals needing further targeting support.


Evoluent Mouse Friendly Keyboard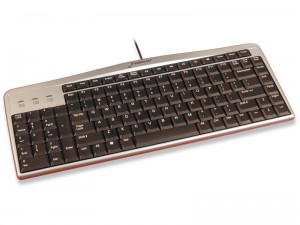 The general layout of the standard keyboard was designed before the introduction of the mouse. Since number entry was one of the primary functions of the keyboard at that time, having the numeric keypad on the right side made sense. Nowadays, most users use the mouse far more than the numeric keypad, so the keypad now occupies the space where the mouse should be. The Evoluent Mouse-Friendly Keyboard has a more sensible layout with the numeric keypad on the left so your mouse may be much closer on the right.
Evoluent Essentials Compact Keyboard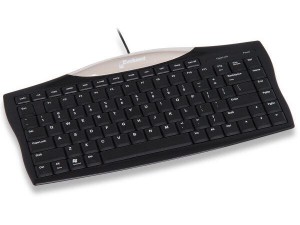 This compact keyboard features full-size keycaps and standard 19.05 mm key pitch (the space between the keys) which is what you would find on any standard keyboard. The Evoluent Essentials is a conventional keyboard without the numeric keypad! The navigation keys are in a single column on the right side of the keyboard allowing the mouse to be moved very close to your body. Raised bumps (both dots and ridges) provide extra tactile feedback to the fingertips on a variety of keycaps beyond the traditional 'F' and 'J'. The Evoluent Essentials also includes 12 hot keys including Cut, Copy, Paste and multimedia functions.


GoldTouch Ergonomic Keyboard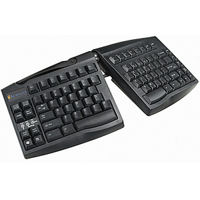 The Goldtouch Adjustable Ergonomic Keyboard allows you to adjust the two alphanumeric sections both horizontally and vertically to suit your individual body requirements. This helps you assume a more natural posture that is conducive to improving comfort and productivity while using your computer.
Splay: The two keyboard halves are joined at the top by a ball and socket mechanism, allowing for maximum continuous splaying of 30° (although if keyboard halves are tented at 30°, the splaying angle will be slightly less).
Tenting: The two keyboard halves are joined at the top by a ball and socket mechanism, also allowing for maximum continuous tenting of 30° (although if keyboard halves are splayed at 30°, the tenting angle will be slightly less).


GoldTouch Go2 Mobile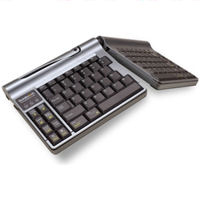 At a mere 1.5 lbs, the Go2 Mobile Keyboard allows road warriors and mobile professionals to safely work wherever their jobs take them.
It uses keys approximately the size of those found on 14″ notebooks and a 3.2 mm travel distance light touch scissor-switch membrane keyswitch. Other 'mini' or 'compact' keyboards have key travel that is too short or hard, and causes increased workload while typing.
The compactness of the Go2 Mobile Keyboard makes better use of limited space environments, and allows for external mice to be placed even closer to the keyboard, reducing shoulder pain and increasing comfort.


Kinesis Advantage Contoured Keyboard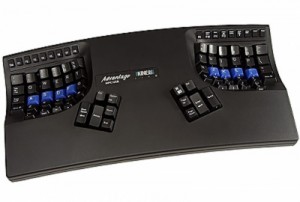 Features
• Separate key wells minimize strain and stretching by positioning your arms approximately at shoulder width and with wrists straight
• Concave key wells reduce hand and finger extension
• Keys are arranged in columns to reflect natural motions of your fingers.
• Thumbs are positioned approximately 20 degrees higher than pinky fingers to help minimize pronation and static muscle tension
• The compact size allows closer placement of any pointing device reducing over-reach issues


Kinesis Freestyle2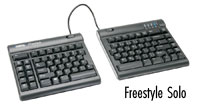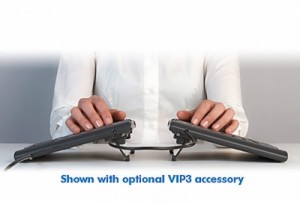 The Kinesis Freestyle is the most versatile keyboard on the market. It's a breakthrough in ergonomic design!
Separation: Up to 8″ (or optional 20″) of complete separation of both left and right keyboard modules. Perfect for individuals requiring greater keypad separation than other ergonomic keyboards.
Splay: The two keyboard halves can be connected together by attaching the included flexible pivot tether, allowing an infinite range of splay. Simple slide release buttons allow the attachment or removal of both the pivot tether and the Incline accessory base.
Tenting: With the new Ascent accessory, tenting is 20° to 90° at 10° intervals. With the optional VIP Accessory Kit, tenting angles of 10° and 15° can be achieved. With the Incline Accessory Kit, tenting is fixed at 10°. And with the new V3 Accessory Kit, 5°, 10° and 15° can be achieved.
Profile: Most keyboards, even ergonomic models, have a 10° positive slope from the back edge to the front edge. These designs tend to bend your wrists and can cause discomfort. The Freestyle has a sleek, low profile design with 0° slope that minimizes the height, effectively creating a negative slope and reducing wrist extension. The Freestyle profile also provides for close placement of any pointing device, keeping you in your comfort zone and reducing any discomfort that may be caused by overreaching.


The award winning Kinesis Maxim adjustable ergonomic computer keyboard is much narrower and more versatile than "natural-style" keyboards. The Maxim accommodates a wide range of user preferences with its adjustable tilt/angle keypads. It can also be fitted with or without a palm rest.


Matias Ergo-Pro Keyboard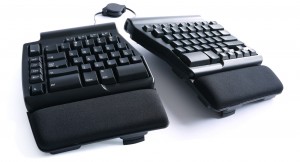 The Ergo-Pro is an ERGONOMIC keyboard that gives you all of the tactile feedback, greater comfort, faster typing speeds, and quiet operation of a Matias mechanical keyboard. We also think it has the best layout of all the ergonomic keyboards so far. We've also used the BEST keyswitches for typing… Matias Quiet Click mechanical switches. They deliver generous amounts of tactile feedback, while providing enough resistance to support the weight of your hands — exactly what you need for fast, comfortable typing.
Features:
• Narrower than most & more comfortable with a mouse
Thanks to our unique navigation cluster, the Ergo Pro is not as wide as other ergonomic keyboards. It's not much wider than a laptop keyboard. This makes it much more comfortable to use with a mouse. Since you're not reaching as far for it, your elbow doesn't need to flare out at an awkward angle.
• Leg supports for tilting & tenting
As you would expect, the Ergo Pro comes equipped with leg supports for 9° tenting and 4.5° negative tilt. It can also be used flat.
• Spacious palm supports
The palm supports are big and comfortable. Plus, they can be removed, if your desk already has palm supports built-in.
• Low Force version also available
For those who need (or prefer) typing with a lighter touch, a Low Force Edition of the Ergo Pro is also available.


Microsoft Comfort Desktop 5050 – Wireless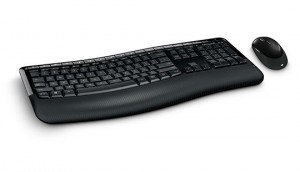 The curvaceous keyboard design encourages you to use a more natural posture that aligns your arms, wrists, and hands for greater comfort. With a wireless connection, you can eliminate clutter and more easily position the keyboard where you need it. Plus, enjoy precision of the full-featured mouse, relying on Microsoft BlueTrack Technology-1 for accurate cursor control on virtually any surface.


Microsoft Natural Ergo 4000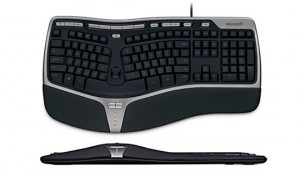 The new Microsoft Natural Ergonomic Keyboard 4000 uses a unique gull-wing design with 14 degree tent, and a centrally located zoom slider. Type in total comfort—ergonomic design encourages natural wrist and arm alignment so you can work without discomfort.
This design includes a negatively sloped wrist rest which is optimal as long as your worksurface can be adjusted to be practically on top of your lap. If the worksurface is too high, this will cause a 'pinch point' and actually reduce the ergonomic benefit of this keyboard. The keys are sloped up towards the 'gap', so that pronation is reduced on most of the alpha section of the keyboard. However the editing keys, cursor arrows and numeric keypad is completely flat (no tent whatsoever).
Take a Product Tour


Microsoft Sculpt Comfort Desktop – Wireless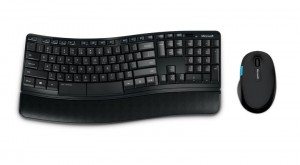 Designed for Comfort
The Sculpt Comfort Keyboard and specially designed, right-handed mouse is packed with ergonomic features including a contoured keyset, removable padded palm rest, and palm lift. These features are designed to encourage a more natural, relaxed positioning of the arms, hands and wrist, providing greater comfort and helping to avoid injury during extended use.
NEW Split Spacebar with Backspace: Research shows that 90 percent of people use only their right thumb to hit the space bar, and that the backspace key is one of the most frequently used keys on a keyboard. Knowing this, Microsoft has built a larger, split spacebar that includes a backspace bar on the left side and space on the right. This new design helps improve typing speed and provide improved comfort.


Microsoft Sculpt Ergonomic Desktop – Wireless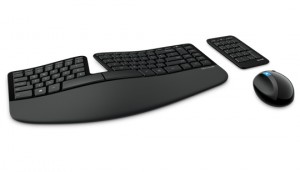 Advanced Ergonomic Design
Sculpt Ergonomic Desktop is built on advanced ergonomic principles, with a split keyboard layout that keeps wrists and forearms in a relaxed position, and a cushioned palm rest to provide wrist support. The domed keyboard shape works to reduce and correct wrist pronation that can cause pain and limited mobility.
True Comfort for Lasting Productivity
Sculpt Ergonomic Desktop is designed for productivity. By providing a relaxed, comfortable computing experience, it enables you to work without the stress, strain, and discomfort of other keyboards and mice you may have used in the past.
It's All in the Angles
The natural arc keyboard layout follows the curve of your fingertips for a more natural way of typing. Reverse tilt design positions the keyboard at the correct angle to give you a straight, neutral wrist position. Additionally, the shape of the mouse is designed for maximum wrist comfort.
Microsoft Sculpt Ergonomic Desktop in Action >


Compact Keyboards
Regular size keyboards with integrated numeric keypads on the right make reaching for your mouse on the right-hand side more difficult. The further you have to reach for the mouse, the greater the risk of injuries to the arm and shoulder due to overreaching. A compact keyboard can help remedy this potential problem by eliminating the built-in numeric keypad altogether and allowing the mouse to be moved closer to the body.
Adesso Compact Mini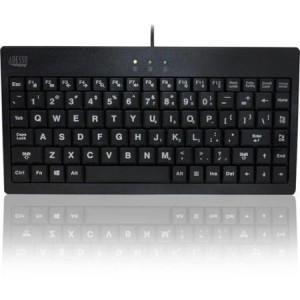 The Mini Keyboard from Adesso is a light-weight and portable keyboard that requires no software to function – just plug and play. It has an embedded numeric keypad, and two Windows keys and is ideal for someone requiring reduced range of motion to access the keyboard.


Adesso Mini-Touch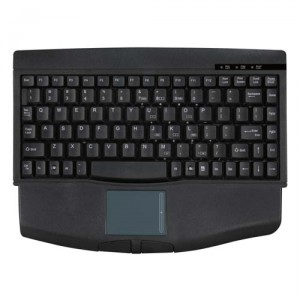 The Adesso mini-touch keyboard is ideal for someone requiring reduced range of motion to access the keyboard layout or is challenged by space issues. This keyboard provides full keyboard layout with the embedded numeric keypad as well as access to a touchpad mouse all in a small footprint design.


Equipped with Bluetooth wireless technology and soft-touch keys, the ultra-portable Wireless Mini Keyboard is compatible with Mac and PC devices.
◾ Portability and comfort: Experience all of the comfort of your desktop at home or on the road. Four months of battery life powered by two included AAA batteries. A low power indicator light will let you know when it's time to change, so you can avoid last minute surprises.
◾ Universally compatible: This slim keyboard will work with all of your Bluetooth-enabled Mac and PC devices, including your desktop, notebook, tablet, smart phone, and other smart devices.
◾ Transport with ease: Just half an inch thick and only 10 ounces in weight, you won't even notice the addition of this mini keyboard to your travel bag.


Logitech Wireless K360 Compact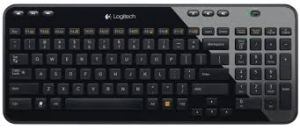 With the Logitech K360 Compact you can type in more comfort with a layout you're used to. Even with a numeric keypad it's about 20% smaller than standard keyboards, offering a space-saving design. Up-to 3-year battery life means long-term reliable use without the need to worry about the cost and hassle of frequent battery changes.


Logitech Touch K400 Wireless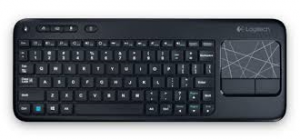 The Logitech Touch K400 provides both a stylish compact keyboard and built-in touchpad mouse. This ultrathin space-saving keyboard with low-profile keys is compact, but still provides comfortable, quiet typing. when using the K400, there is no need for a separate mouse, thanks to the large 3.5 inch built-in multi-touch touchpad.


Solidtek Scissor Switch Compact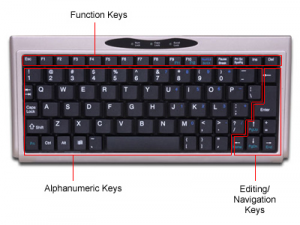 The Scissor Switch Compact Keyboard from SolidTek is a compact keyboard with an 88 key layout with an embedded numeric keypad to offer full 101 key functionality. The scissor switch key architecture is an improvement over traditional membrane keyboards and ensures that typing is silent, stable and comfortable. All the letter keys are full size with a 19.05 mm / .75″ key pitch (the space between the centre of neighbouring keycaps) – only some of the bottom row and right column are slightly narrower. The keyboard features an incredibly low profile which helps to prevent wrist extension (dorsiflexion), as it is only 0.71″ high. This keyboard features a 20 key embedded numeric keypad and the SK3001SH model has 2 USB 2.0 hub ports.


Large Print Keyboards
Adesso High-Contrast Fluorescent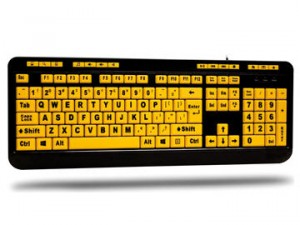 The Adesso Large Print Desktop Keyboard is designed for those whose eyesight isn't quite what it used to be, or for anyone with a slight visual impairment. With its large 4X black print on bright yellow keys, you can type with greater ease and less strain on your eyes. The membrane key switches provide a quiet and quick response and stand up to heavy use– up to 5 million keystrokes!


Keys-U-See large print keyboards are the perfect replacement keyboards for anyone who has a hard time seeing the letters on their computer keyboard. The large print keyboards are also great for anyone working in low light conditions or is learning to type. These large print keyboards come in a variety of colors including black keys w/white text and high-contrast yellow keys and black type—a scientifically proven combination that is easier to see for those with certain types of visual impairment.


ZoomText High-Contrast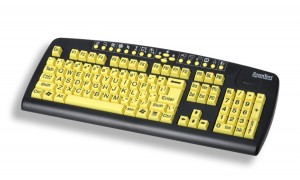 For anyone who struggles to see the lettering on their keyboard, the new ZoomText keyboard makes typing faster and easier than ever before. Each key and button label is easy to see, even in low light, thanks to its 36-point text and choice of high-contrast color schemes: "Black on Yellow" or "White on Black".
The ZoomText keyboard provides quick access to ZoomText (9.04 & up) features. Eighteen dedicated buttons allow you to instantly start ZoomText, change magnification levels, toggle screen enhancements, launch AppReader and DocReader, and more, all without having to memorize hotkeys.


Large Print Key Cap Labels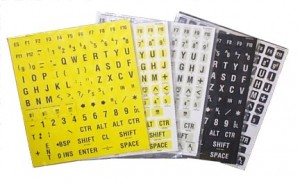 Transform your favourite keyboard into a Large Print keyboard using durable, easy to apply Large Print Key Cap Labels. Available in a variety of High Contrast Colours.