A pointing device is an input device for the computer, such as a mouse, joystick, or trackball, with which one can move or manipulate a cursor or pointer on a graphic user interface i.e. Microsoft Windows or Mac O/S.
The primary pointing device in use today is the mouse for the desktop computer and the touchpad for the laptop. However, many different options are available to control the cursor, including joysticks (manual or sip/puff), headmouse, touch screens and a great variety of mice and trackballs.
This is important as the physical capability of an individual often determines the suitablility of one pointing device over another. Extensive research has shown that the shape and slanted angle of a mousing device provide users more neutral hand positions, so forearm and shoulder muscle activity and the risk of musculoskeletal disorders will be reduced. This reduction in injuries should even increase worker productivity and comfort.
AbleTech carries a variety of mousing options for this purpose. Here are just a few examples. If you are looking for something you don't see, let us know. We can help!
3M Ergo Mouse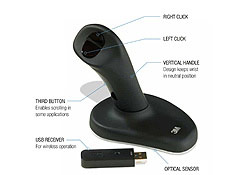 This mouse is clinically proven to alleviate pain and discomfort of repetitive stress injuries in the hand, wrist, or arm associated with the use of traditional mice-which can pronate the forarm and wrist and typically presses the wrist and carpal tunnel area against the desk.
The 3M™ Ergonomic Mouse has earned an Ease-of-Use Commendation from the Arthritis Foundation® for its patented, vertical grip design that keeps your hand and wrist at a neutral angle, while the mouse works as a regular optical mouse. Grip the handle and rest your hand on the base. Use your thumb to left and right click.


Roller Mouse Pro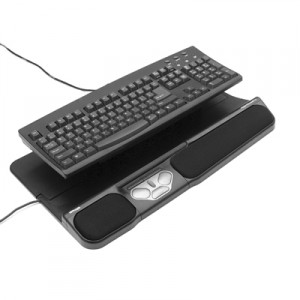 The RollerMouse Pro eliminates reaching for a traditional mouse, relieving neck, shoulder and elbow pain. Asymmetrical reaching with one side of your body and not the other causes your muscle groups to compensate for the weight of your extended arm while reaching for a traditional mouse. Repetitive reaching oftentimes leads to tightness and pain in the neck, shoulder and elbow areas. The RollerMouse allows you to keep your elbows comfortably by your side, which is a more beneficial ergonomic position. There is no gripping necessary, thus avoiding the threat of Repetitive Strain Injuries such as Carpal Tunnel Syndrome and Tendonitis. The RollerMouse also promotes the equal use of both hands, reducing the risk of injuring your dominant "mousing" hand.


Adesso Smart Cat Touchpad Series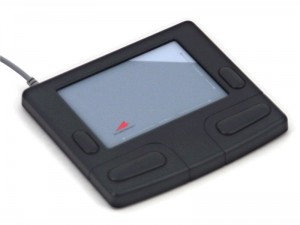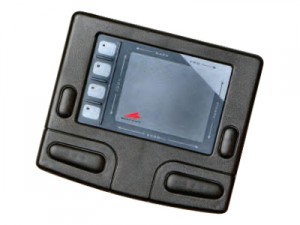 Why push a mouse when you can just point? The Smart Cat sets the standard of comfort plus performance in computer control. With intelligent software and one-touch scroll and zoom, Smart Cat combines all the power of a mouse with the comfort and durability of a touchpad.


Contour Perfit Mouse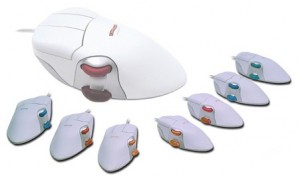 Reduces or eliminates the grip force required to navigate and click traditional mice. This ergonomically sculpted mouse is designed to support your hand comfortably without the need to clutch the mouse to control it. Four right hand sizes and three left hand sizes properly fit your hand so you are not trying to navigate a mouse that is too small for your hand. You escape the habit of pinching a small mouse on the sides while curling your fingertips back to click on the buttons. Excessive clutching and finger flexing can aggravate the carpal tunnel and result in repetitive strain injuries such as Carpal Tunnel Syndrome and Tendonitis.


Evoluent VerticalMouse – Right or Left Hand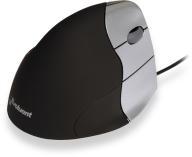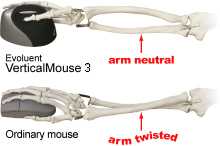 The Evoluent VerticalMouse is a uniquely designed device designed to eliminate wrist pronatation while using the mouse. The grip is the same as an ordinary mouse, just turned sideways into a handshake position.


The patented shape supports your hand in a fully upright handshake position that eliminates forearm twisting. Many users indicate this design has relieved their hand, wrist, or arm pain. The VerticalMouse does not move sideways when clicking with normal force because the thumb naturally opposes the fingers. Pointer control is as accurate as any other good mouse when the pointer speed settings are correctly adjusted.
NEW – Evoluent VerticalMouse 4 Small (Right Handed, Corded only with purple buttons) is now available!
If you are unsure which size of Evoluent VerticalMouse to get, these general guidelines should be useful:
Users over five feet and seven inches in height (> 5'7″ [170 cm]) should order the regular-sized mouse (VM4R). Users under five feet and four inches in height (< 5'4" [162 cm]) should order the small-sized mouse (VM4S). For users between these two heights, either size of mouse may be suitable depending on other physical attributes.


Evolution Mouse-Trak Trackball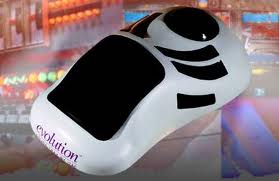 The most highly evolved trackball available today.
• Elevated hand support helps reduce the risk of Repetitive Stress Injuries
• Extremely light ball movement force reduces user effort
• Six large are keys positioned ergonomically to fall under the fingers
• Evolution can be configured for left or right handed users
• High Speed, High Precision Scrolling Feature
• All keys are user configurable for standard mouse button operation without drivers or software


GoldTouch Ergonomic Mouse – Right or Left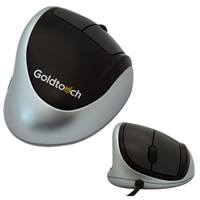 The redesigned Goldtouch Mouse is based on the shape of the original Goldtouch Mouse, and maintains a similar hand position (24° reduction in pronation) as the original. The concave thumb area is rubberized to provide superior grip and provides superior control while accommodating a wide range of hand sizes. The buttons are oversized to provide more muscle options for clicking actions. As this mouse's design is not a radical departure from 'conventional' mice, the learning curve is minimized. Available in a left and right handed version corded or Bluetooth.



HandShoe Mouse



At last a sized mouse that fits like a glove! The design of the HandShoe Mouse is to prevent excessive gripping and pinching as well as allow extension of the fingers. The special shape allows for the hand to continuously rest on the mouse body in a relaxed fashion and thereby reducing the risk of RSI (repetitive strain injury). Available in four sizes for the right hand and three sizes for the left hand in wired or wireless BlueRay Track versions. BlueRay Track technology makes it work on almost every surface without a mousepad!
The wireless HandShoe Mouse uses a rechargeable lithium ion battery. Operating time for the is around 4 weeks between charges. Charging takes around 3 hours via USB cable and you can continue working while attached to the computer.
Measure
To determine which HandShoe will best fit your hand, measure from the first crease in your wrist to the end of the ring finger with the hand in a stretched position. Medium = 6 3/4″ – 7 1/2″. Adjust size if shorter or longer than the medium specification.


IntekView Laser Vertical Mouse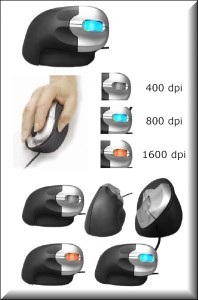 The IntekView™ laser vertical mouse V2 places your hand in a natural vertical position, like a handshake. The traditional horizontal mouse forces you to hold your hand at an abnormal angle, which in turn puts your arm in static, twisted position. Repeated tiny, fast movements with tensed muscles can cause temporary pain and prolonged injuries. The mouse uses the laser technology, different from traditional optical mouse. This feature is suitable for almost all surfaces, including glass surface.






Kensington Expert Mouse Trackball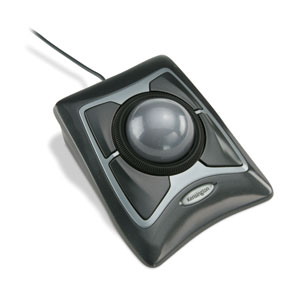 The Expert Mouse trackball provides a large ball and buttons that make larger target areas than any other trackball. Designed for PCs and Mac's, the new Expert Mouse employs Kensington's Diamond Eye optical technology for smooth, precise cursor movement. Surrounding the ball, we have a Scroll Ring that puts scrolling right at your fingertips. More comfortable than ever, the Expert Mouse also comes with a soft wrist-rest.


Kensington Orbit Wireless Trackball Right or Left Hand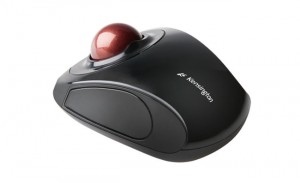 The Kensington Orbit™ Wireless Mobile Trackball offers a precise, compact and versatile experience with a centered-ball design. With no wires to tie you down, the 2.4 GHz wireless with storable nano receiver works wherever you do, at your home or office. And the unique touch scrolling lets you glide effortlessly through web pages and documents.



Kensington Orbit Scroll-Ring Trackball – Wired Right or Left Hand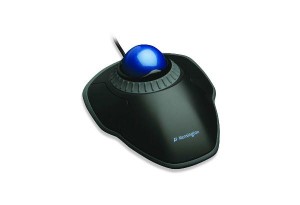 All-day comfort and scrolling come together in the Kensington Orbit™ Trackball with Scroll Ring. The Scroll Ring allows you to fly through web pages and documents. And all while delivering comfort and space savings no mouse can match.
- Ambidextrous design for left or right-handed users
- Detachable wrist rest cradles hand in comfort
- Optical technology delivers superior precision
- Professional black and blue finish
- Save time and increase productivity with the click free Scroll Ring
- Stationary trackball design optimises desk space when compared to a mouse
- Two customizable buttons with Kensington Trackball Works software


Logitech Performance MX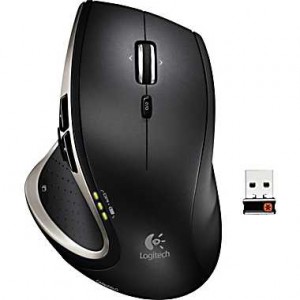 The sculpted, right-hand shape is designed to fit your hand and put it in a comfortable, natural position.Comfortable hands like comfortable mice! Extending your wrists and flexing your fingers for hours may not feel so good. Logitech makes low-profile mice that reduce the angle you need to extend your wrist and carefully place controls so that most hands can use them without flexing fingers more than 45 degrees. Customizable thumb buttons help you do more, faster.


Logitech Marble Trackball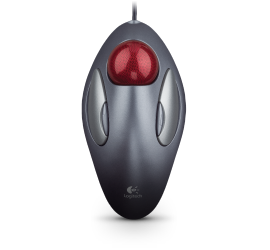 Left handed? Right handed? When you're working on your computer day and night, and you want more flexibility, the Logitech Trackman Marble will help increase your comfort level.
Whichever hand you use, this mouse keeps you comfortable and supported all day—and stays in one place. The convenient Forward and Backward buttons help you get around the Web with ease and Fast, accurate control is right at your fingertip with smooth-tracking Marble® optical technology.



Logitech Wireless Trackball M570


Millions of people have loved the Logitech Trackman Wheel. Logitech has refined its proven shape to create the M570. The M570 allows you to work in comfort with a stable, sculpted trackball that supports your hand and lets you rest your arm. Your trackball stays in one place, so you don't have to move your arm to move your cursor. Because the trackball doesn't move, it's perfect for tight workspaces and busy desks.




Microsoft Arc Wireless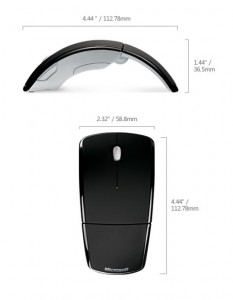 Experience comfort and elegant design in a portable mouse. Accurate and precise laser tracking helps you navigate fluidly by using the scroll wheel or four customizable buttons. Cut the cumbersome cord of a traditional mouse, and take advantage of the tiny USB transceiver that lets you roam up to 30 feet away from your computer and scroll, point, and click. Fold the mouse and it fits in your pocket or bag as easily as a cell phone.



OrthoMouse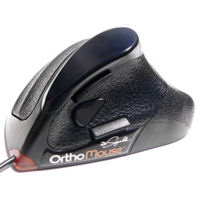 The OrthoMouse from Orthovia is designed to put your hand in the 'position of function'. When you flex your fingers (i.e. curling your fingers into a ball) you are using the flexor muscles in your hand. When you open your hand (extending your fingers to a straight position) you are using your extensor muscles. The position of function is the point of balance between these two sets of muscles. This design also enhances the tactility of the mouse by using the extra sensitivity in your fingertips to provide maximum precision and accuracy.
The sensor is near the 'top' or tip of the mouse, directly below your fingertips, making the act of targeting and positioning the cursor a direct extension of your fingers (much like writing).
In order to accommodate the various hand sizes, the OrthoMouse comes with several slide-on attachments at the base and top of the mouse to accommodate different hand sizes and methods of use. This ensures an increased sense of tactility and confidence in cursor positioning, resulting in a very small learning curve. This mouse is ideally suited for anyone who is seeking a sense of precision and high tactile feedback including graphics designers and gamers