Dragon Speech Recognition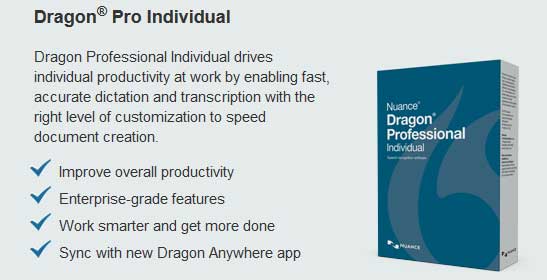 Turn Talk into Type
With over 18 years experience working with speech recognition software, AbleTech can implement and customize a speech solution tailored to your needs.
Most people speak over 120 words per minute but type less than 40 words per minute. What if you could create email, documents and spreadsheets simply by speaking? What if you could control your PC just by talking to it? This includes launching applications, opening files, managing e-mail and working on the Web — all by voice.
With speech recognition software from Nuance Communications, you can turn your voice into text three times faster than most people type. Just start talking, and the software will recognize your voice instantly, delivering up to 99% accuracy as soon as you get started. Accuracy will continually improve the more you use the software.
Learn More


Nuance PowerMic III



Pull the most potential from your PC microphone. The latest handset technology of the Nuance PowerMic III provides you with a high-quality noise cancelling microphone which is ideal for speech recognition. Nuance PowerMic III offers simplified, thumb-control operation for dictating, navigating, reviewing, and editing speech generated documentation. Easily program frequently used voice commands to execute with the simple press of a button.
Easy to use, fast and accurate, the PowerMic III is the next step in modern speech recognition!
Struggling writers can face many obstacles. These can include typing, spelling and punctuation. Confusion about words that sound the same such as "their and there" adds complexity to existing spelling issues. There is often the challenge of having enough confidence, focus or stamina to complete assignments.
WordQ is designed to assist you in overcoming these obstacles. You can focus on exploring your ideas while the software helps you build well-structured sentences to create flow through your work. At the same time, it gives you the tools to become a more successful writer.
* Learns which words you like and predicts them faster
* Predicts words even if they are spelled creatively or missing parts
* Offers a list of words with similar meaning to add variety to your writing
* Uses clear and pleasant spoken feedback.
* Gives examples for words that sound similar by using them in a sentence
* Reads aloud any text you can highlight, including websites, emails and instant-messaging
* Reads exactly what you write, so poor grammar sounds off and bad punctuation disrupts the rhythm
* Helps only as much as you need with functions that easily turn on or off
* Lets you modify word prediction to use specific vocabulary or topics
* Works with all commonly-used programs
* Now includes English, French, Spanish and German
SpeakQ is an add-on that enhances WordQ by providing forgiving speech recognition that creates a word-prediction list for each word you say, so imperfect speech doesn't get you stuck. Switch between talking and typing to use whichever is more comfortable.
Say more with speakQ!


SpeakQ
• Lets you type the words you know and use voice to text to say the the ones you don't
• Speech recognition helps you write everything you say from single words to entire paragraphs
• Offers suggestions for words you have difficulty pronouncing
• Train its voice recognition to understand your voice, with no reading required
• More tolerant speech recognition for children, accents and speech difficulties than other software
• Allows you to mix typing and speaking for best results
• No voice commands to remember or distract
• Now includes English, French, Spanish and German*
Recommended Headset/Microphones
Plantronics Savi 8200 Office/UC Wireless PC/Tel Headset allows the user to achieve high speech recognition accuracy when dictating to the computer, then, with a press of a button, talk on the telephone up to 350′ away from the desk (Compatible phone system required). A mobile phone can also be connected to the W740 making this a 3-in-1 Headset Solution. The 8200 Series is also highly recommended for your Unified Communication needs.
3 different included wearing styles make the Savi 8240 model the most universal headset solution available.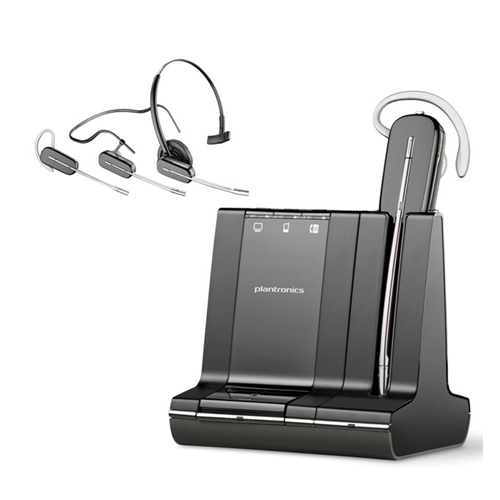 Plantronics 8240-UC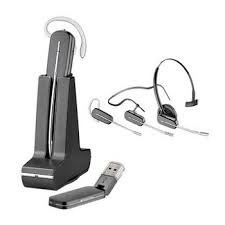 Plantronics 8240-UC headset is 4-Dragon certified by Nuance for use with Dragon Naturally Speaking software.
The 8240-UC noise canceling, wireless headset features a best-in-class noise canceling microphone and an extended mouthpiece for greater accuracy and stores enough power to run for eight hours without a recharge, making it ideal for portable use. The included USB Wireless Adapter plugs into your computer and provides an accurate signal up to 33 feet away.


Plantronics Blackwire 5200 Series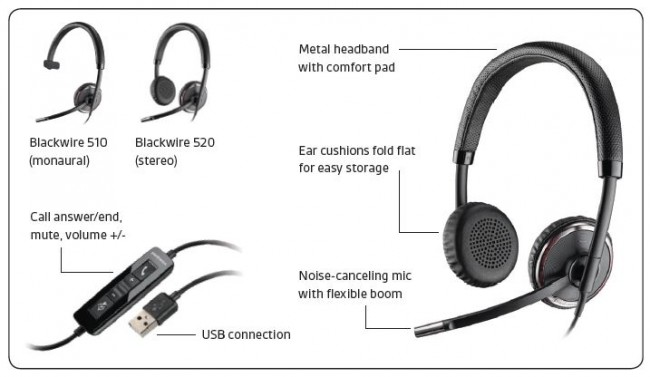 For those who spend hours each day using speech recognition, on long conference calls and video conferencing, the exceptional voice clarity and comfort of the Blackwire 5200 Series make communications effective and productive. Featuring USB audio, a flexible boom, noise-canceling microphone and digital wideband telephony, the Blackwire 5200 delivers the performance, accuracy and comfort you expect from a headset solution. The Blackwire 5200 can be worn in a monaural-single ear or binaural-dual ear style and features generously padded ear cushions for optimal all-day comfort.


Insync Buddy Desktop Microphone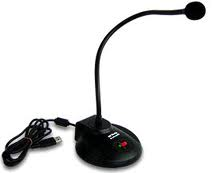 Buddy DesktopMic™ is a USB-interface high quality directional microphone that is specifically designed for speech recognition applications. Its ergonomic features include a flexible gooseneck, a sturdy and weight-stable base.
Also available in a Desk Clamp Gooseneck and Direct USB Connect models.


Buddy USB Sound Device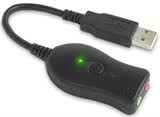 Designed for use with speech recognition products, Buddy USB 6G is a USB adapter that has built-in high-quality sound card, which replaces a desktop or laptop computer's sound card for high performance speech input and audio output. (Headset not included)