Vision Tracker 1


EyeTech's Eye Tracking Technology enables individuals who are severely paralyzed or suffer from RSI or carpal tunnel to control their computer hands-free using their eye movements. The Eye-Tools bar allows users to perform mouse functions including left & right click, double click, drag, and zoom. User's can communicate using speech software, type, surf the web, send email, control their environmental system, play games, and more.
EyeTech's Vision Tracker VT1 system offers more than double the amount forward and back head motion than previous TM3 and TM4 models. The hardware is a portable eye tracking system designed to work on larger screens for both PC and Television screens 22" to 32" in size.
The TM4 Eye Tracker continues the accuracy and usability of the TM3. The USB interface allows connection to a larger number of PC's, laptops and speech devices and lower power consumption extends the battery life of portable devices. The TM4 further offers the most simplicity over any other eye tracker on the market. This fourth generation eye tracker is your ideal eye-tracking mouse replacement. Designed to work on screens 12″ to 21″ in size.


HeadMouse Extreme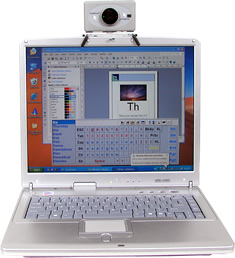 HeadMouse® Extreme replaces the standard computer mouse (PC or Mac) for people who cannot use or have limited use of their hands when controlling a mouse or augmentative communication device. The HeadMouse translates natural movements of a user's head into direct proportional movements of the mouse pointer. The HeadMouse has a wireless optical sensor which tracks a tiny disposable target that is conveniently placed on the users forehead, glasses, hat, etc. It works just like a computer mouse, with the mouse pointer being moved by the motion of the users head.
The HeadMouse will track the user's head with the user located in any comfortable viewing position relative to the computer display. Resolution of the HeadMouse is precise to allow a user to control the mouse pointer down to the minimum, pixel perfect, resolution of the computer display. This precision allows a user to perform such tasks as drawing, gaming, graphics work and Computer Aided Design (CAD).
When used with an on-screen keyboard such as SofType™ or KeyStrokes™, HeadMouse provides head-controlled access to all of the full range of functions for both keyboard and mouse, and to thousands of standard personal computer applications including Internet access.
A variety of optional HeadMouse Extreme mounts are available for notebook computers, flat panel displays and Alternative and Augmentative Communication (AAC) devices.


TrackerPro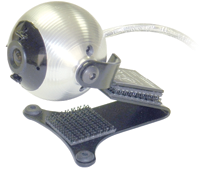 TrackerPro is a computer input device that takes the place of a mouse for people with little or no hand movement. Simply plug it in and it works just like a mouse (no additional software required). Anything that can be done with a regular hand mouse can be done by using TrackerPro (in conjunction with one of many clicking solutions).
How does it work?
Its high-resolution intelligent camera , makes it smooth, reliable, robust, accurate and easy to mount. TrackerPro tracks a small dot that you can place on your forehead, glasses or the rim of a hat. Tracker is not a toy meant for the gaming market ; it is an assistive technology tool designed exclusively for people with limited use of their hands.


SmartNav 4:AT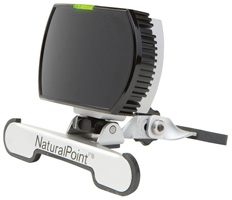 The SmartNav 4:AT is a total hands-free mouse solution. With included Dwell Clicking software for all your mouse functions and an On-screen Keyboard, the AT package is used by people with ALS, spinal cord injuries, MD, and other special needs.
SmartNav gives you Complete Computer Control and comes with everything you need to control your computer using only your head motion without the need for hands. SmartNav was designed to complement the natural head motion you already perform when looking around. Moving your head less than a quarter inch easily maneuvers the cursor across your entire screen.


Jouse2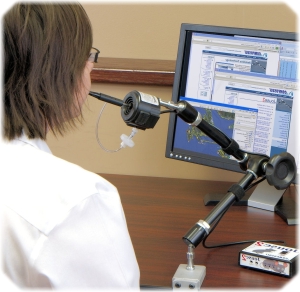 The all new Jouse2 is an advanced joystick-operated USB mouse that is controlled with your mouth.
Just move the precision joystick with your mouth, cheek, chin or tongue to shift the mouse cursor wherever you want. The further you move the joystick, the faster the cursor travels. You can perform right-click, left-click and double-click actions with the sip and puff switches built into the Jouse2.
The Jouse2 requires minimal action. The cursor movement is fast, smooth and very accurate, which is great for drawing and playing games.
The Jouse2 supports four user-selectable versions of Morse Code text input with Dual-tone audio via the sip-and-puff controller.
The Jouse2 will mount to almost any desktop. It also includes mounting options for ancillary equipment such as microphones, switches and Web-cams. Compusult also offers custom Jouse2 mounting hardware, switch controls, and interfaces for many special needs.
The Jouse2 comes with two types of mouth pieces; a disposable type for multiple users and a rigid, more comfortable type in two different lengths for full-time users. The Jouse2 comes with 20 disposable mouthpieces, as well as two long and five medium-length permanent mouthpieces.
The Jouse2 comes with built-in support for two external switches. If the user cannot perform a sip or puff function (e.g., if they're on a respirator), they can use a switch as an alternative.
A saliva filter for enhanced hygiene in additional to the replaceable and washable sip and puff tubes and tube holder. A spare filter unit is also included.