Sit Less, Move More with Performance Power Adjustable Desk/Workstation
Much attention is being paid to the health benefits of sit-to-stand workstations. The Performance Enhance Sit/Stands feature a low and extra-high range of adjustment (25-51 inches), sleek design and amazing durability. Enhance Height Adjustable Desks create a comfortable ergonomic surface for your workspace or home office. This smooth, power height-adjusted workstation and desk has a clean modern look and is available in three sizes and five colours. Available accessories include monitor arms, keyboard trays, CPU stands and Advanced Control Switches and matching office storage options.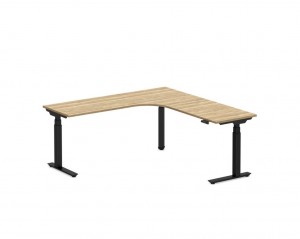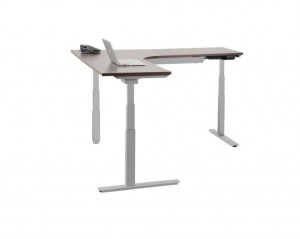 Enhance Power Height Adjustable Workstation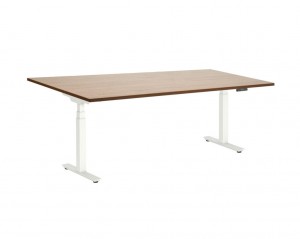 This powered height-adjustable table is an accessible activity table or computer workstation that's as stylish as it is functional. Adjusts with the push of a button from 25-51 inches, powered by an extremely quiet motor and equipped with a anti-collision sensor to halt movement when it senses an obstruction. A full range of options and accessories amplify its function as a computer workstation for assistive technology users and school computer labs.
Advanced motorized hydraulic lift system, floor levelers & lift capacity of 265 lbs. Choose from six sizes and seven colours.


Classic – Accessible Computer Workstation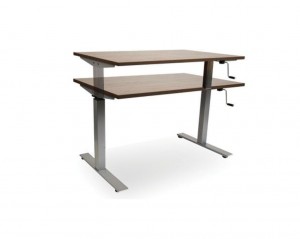 This workstation accommodates users of all ages and abilities at an excellent price. The Classic Crank Height Adjustable Sit/Stand table (60″ x 24″) is an ideal solution when frequent adjustment is needed to accommodate a variety of users. An easy-to-turn hand crank provides infinite work surface adjustment between 26.5″ to 43″.
Standard features: Durable laminate top 1-1/8″ thick, heavy 3mm PVC edgebanding, floor levelers. 7 colour options available.


ErgoTron WorkFit-A & WorkFit-S
Ideal for corner workstations, the WorkFit-A clamps to the rear or side of most surfaces and enables an effortless sit-and-stand work style. Fold the keyboard up and swing the arm out of the way when you need your desk surface. The WorkFit-S transforms almost any surface into a personalized height-adjustable desk. With ErgoTron WorkFit solutions you can change from a sitting to a standing position whenever you want and a variety of configurations to provide worksurface areas, laptop trays or dual monitor displays are available. These height-adjustable workstations move your keyboard and display in one simple motion, making computing comfortable for prolonged periods.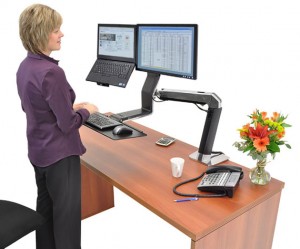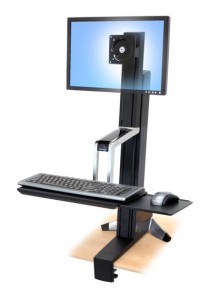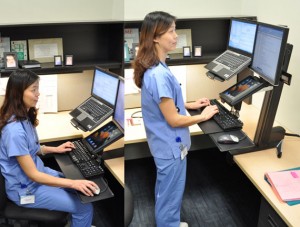 The Easy-Chair Workstation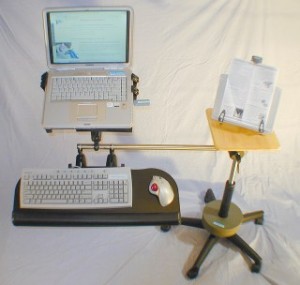 This versatile series begins with a star base similar to those on an office chair which has been counterweighted for stability. Our "Boom Arm" adds an angle and length adjustable stainless steel boom arm which is mounted to the star base. The boom arm then supports a variety of mounting system components that can be selected to fit your needs. These include mounts for "VESA" LCD flat screen monitors, our self-clamping Laptop/Notebook mounting platform, and even a cup-holder. These mounts all feature sturdy "ball and socket" locking joints allowing for nearly unlimited angle adjustment.
The Boom arm workstation is great for comfortable use at nearly any recliner, easychair or sofa. It is also well suited for use in special needs situations, such as use with a wheelchair, or hospital type bed.