Do you, or someone you care for suffer from Macular Degeneration, Diabetic Retinopathy, Glaucoma or other causes of sight loss? Do you have difficulty reading small print, even with your reading glasses?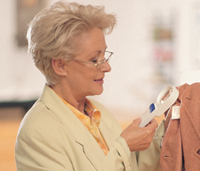 If you have vision problems. AbleTech is here to help!
Anyone with vision loss can have difficulty functioning in daily life. The range of problems can involve difficulty in reading, where a brighter light is necessary, to severe vision loss requiring assistance in navigating the home environment. If you've heard terms like "legally blind", "partially sighted" or "low vision" used to describe your condition, you will benefit from low vision care.


Low Vision Care is the process where a trained specialist or eye doctor works with you to help you continue to utilize and enjoy your vision, even with partial loss!

Various professionals exist to help coordinate and provide your low vision care:
Ophthalmologists
Optometrists
Opticians
Low Vision Specialists
Rehabilitation teachers and counselors
Orientation and Mobility Instructors
Occupational Therapists
And many others…
Low Vision Care is a process whereby a Low Vision Specialist works with you to identify your visual problems and customizes a plan to overcome them!
Low Vision Care is not a surgical procedure or medicinal treatment, but rather a rehabilitative program to teach you new strategies to maximize your remaining vision.
Your Low Vision Specialist may recommend optical, electronic or adaptive devices to help you accomplish your visual goals, and may recommend other complementary medical or rehabilitation specialists to complete your care.
Loss of vision can be very frustrating especially when it means struggling with what should or used to be performing easy, daily living chores and activities. Many of you may experience difficulty with glare from the sun or snow, or you may need extra help in viewing small print or images, especially under poor lighting condition.
Be assured there are helpful, every day living products and devices available to you, which will provide solutions to the many obstacles that may be preventing you from remaining independent.
When viewing this website, should you see a device that you feel would be helpful to you, contact your eyecare professional and ask about its benefits for you. Or, call 1-866-374-6776 to speak with one of our technology specialists.
Millions of Canadians & Americans suffer with low vision, but most get no assistance with this condition. In fact, many are told that "nothing more can be done" about the vision loss. Whatever your needs, AbleTech is your partner in finding a solution. Explore our website to find out about low vision conditions and low vision solutions!