Compact 4-HD
Are you looking for a stylish, High Definition magnifier in a convenient size without compromising on comfort and functionality? The Optelec Compact 4 HD is the first High Definition video magnifier that uniquely combines all the benefits of a hand-held and dome magnifier in a single design for a comfortable reading experience.
Designed for comfortable reading in High Definition
Enjoy a comfortable reading experience much like a dome magnifier. Use in combination with the detachable magnetic stand, and the Compact 4 HD is easy to grip, sliding effortlessly over letters, books, magazines and photographs.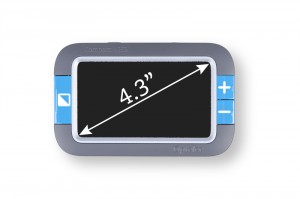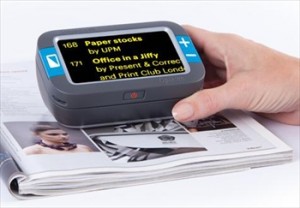 Compact 5-HD
Experience a revolutionary breakthrough in electronic handheld low vision technology with the
Optelec Compact 5 HD.
In high definition, you can now read from glossy magazines, letters, displays and price tags. Lightweight, always in focus and easy to use, the Compact 5 HD is the first true replacement of the traditional optical magnifier that will grow with your needs with the lowest and widest magnification range from 1.5 to 18 times zoom.
Ergonomic Design
Use the Optelec Compact 5 HD in two ergonomic positions. Open the Compact 5 HD for a perfect reading angle and move smoothly across newspapers and magazines. Alternatively, close the Compact 5 HD for use on-the-go, spot reading and distance viewing (up to 1.2 metres).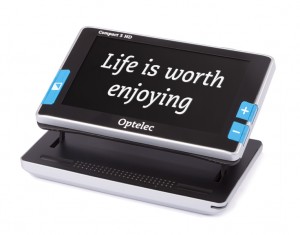 Compact 7 HD
The first high definition handheld video magnifier with a large 7-inch widescreen.
Imagine using a high definition magnifier providing a greater overview and more words per line combined with the best available image quality. The Compact 7 HD integrates the largest screen available in the Optelec Compact product family; still it is small enough to be carried easily from one location to another.
Large screen in a compact design
With an adjustable continuous magnification range starting from 2 times up to 24 times, the Optelec Compact 7 HD allows you to see the smallest details of photographs and objects on the ergonomically positioned, 7-inch, high brightness widescreen.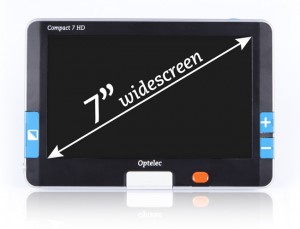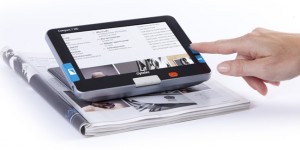 Compact+

One Button Simplicity To Endless Possibilities.
The Compact+ is the perfect combination of sophisticated design and functionality. Take the Optelec Compact+ on the go to read price labels, maps, bus schedules, directions and your favorite restaurant menus.
The Power To See In The Palm of Your Hand
Read contents on prescription labels.

Sign credit card receipts and checks.

Great for checking prices and label information.

Read the menu at your favorite restaurant.

Review your mail.

Read maps and directions.
Specifications
5X, 7.5X and 10X magnification.

Battery life up to 3 hours.

Multiple viewing options.

Document reading.

Easy to write under.

Snapshot function.

Handgrip.

Weighs only 9.6 ounces.

Measures 5.3″ x 2.9″ x 1.2″.
Compact Mini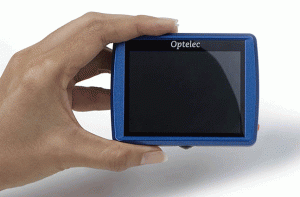 Discover the power of using an ultra-slim pocket video magnifier.  The Compact Mini is the smallest and lightest video magnifier offered by Optelec, designed as a simple and effective, high contrast alternative to a traditional optical magnifier.
Small size, large screen
Imagine being able to read from medicine dosage labels, restaurant menus and bus timetables.  Simply position the Compact mini over reading material and objects and view an enlarged, high contrast image on the 3.5-inch full colour screen. 
Key benefits:
2 to 11x magnification

3.5-inch full color TFT screen

Multiple viewing options

Camera is centrally positioned for intuitive reading

Rechargeable battery offering up to 3.5 hours continuous use

Carrycase and wrist strap
Specification:
Dimensions: 9 x 7 x 1.7 cm / 3.5 x 2.7 x 0.6 inches

Weight: 134 grams / 4.7 ounces