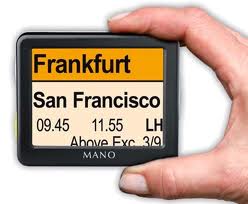 At home and en route you need a magnifier? You like to use products that are stylish and easy to handle?
MANO sets new benchmarks: MANO offers you a pin-sharp image and an infinitely variable magnification.
The snapshot function for saving three pictures or information offers you instantaneous help for memorizing important details, i.e. a telephone number, departure time or a price. At the push of a button you can capture small print that is out of your visual range, like timetables, notices and labels.
MANO will help you to read and write. MANO is your stylish companion.
Your Advantages
•snapshot function for saving of three freeze images
•image scroll funtion for magnified viewing of all picture details of saved images
•illumination with amplified contrast and five colour modes
The MANO Portable Provides
•an illuminated display and fold-out writing stand for convenience and comfort
•controls that are clear, simple and easy to use
•mains and battery operation for flexibility
•saves up to three images with a handy zoom and scroll function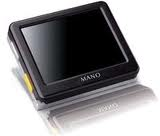 Technical Data
Monitor:
3.5" TFT screen
Rechargeable Battery:
replaceable, rechargeable Li-ion battery
operating time approx.2.5 hours
charging time approx. 2.5 hours
Accessories:
hand strap, protective bag, power supply with 4 adapters for worldwide usage
Colour modes:
Full colour mode
Semi-colours – b/w, w/b, g/b, b/y, g/y