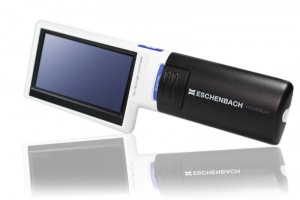 The first portable, hand-held video magnifier featuring revolutionary AMOLED (Active Matrix Organic Light-Emitting Diode) display technology!
An AMOLED display produces the highest contrast image, the fastest image processing, and best resolution of any video magnifier in the market!
The Mobilux Digital processes the display image 1,000 times faster than LCD video magnifiers and produces the blackest blacks vs. all its competitors.
No 'ghosting', 'smearing' or fading images occur with the Mobilux Digital when the camera is moved. Looking at a Mobilux Digital image is like looking through a window!
The Mobilux Digital also features the highest resolution on the market thanks to a 2.0 megapixel camera sensor, guaranteeing users that images captured on the screen will be the sharpest images available!
The AMOLED display in the Mobilux Digital also allows the image to be viewed from an angle of up to 170°. Ordinary LCD screens show distortion and a loss of contrast at any viewing angle other than 90°. This means that users don't have to struggle to always sit or stand directly over the screen to see an image or text clearly. Plus, with its super-high contrast ratio, the Mobilux Digital can be easily used outdoors.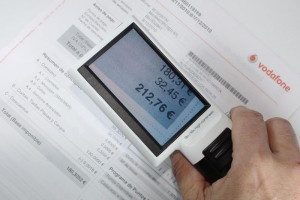 Magnification: 3x and 6x

Viewing Modes: 3 viewing modes: color, black on white, and white on black

Display: AMOLED – the equivalent of 40,000 LEDs

Screen Size: 3.4 inches diagonal screen

Aspect Ratio: 16:9

Weight: 162 grams or 5.7 oz

Camera Sensor: 2.0 megapixels

Auto-Off Function: Motion based, auto-off function after 8 minutes of non-use

Freeze Frame: Yes

Batteries: Last 4 hours without re-charging in B&W modes, 3 hours in color mode

Re-Charging Time: 2.5 hours

Warranty: 2 years