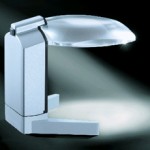 Scribolux
Do you have difficulty writing checks, doing crossword puzzles or reading? The new Scribolux illuminated stand magnifier is perfect for these tasks because it features a large, open, viewing area for reading and writing.
The functional design is complemented by a large 100mm x 75mm lens that provides 2.8x (7D) magnification.
In addition, the Scribolux is portable and operates with SMD-LED illumination that provides vivid lighting and never needs replacement! All of these features make writing checks, letters, cards, and reading easier than ever!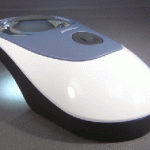 Powerlux offers the perfect solution for your low vision users who are looking for maximum vision comfort and exceptional ease of use.
Based on the ergonomic design of a computer mouse, providing a relaxed hand position when used over long periods of time. The magnifier easily moves across any reading material by both right and left-handed users and, because the lens is located close to the hand position, it offers easy orientation so patients will not lose their place when reading.
This stand magnifier combines an aspheric, 20 diopter lens (5x magnification) with two SMD LED lights for bright illumination. Plus, the Powerlux is available in two types of illumination options: cool blue or warm yellow, to give you an illumination preference.
The Powerlux's open design not only makes it easy to read, but also enables users the ability to perform small writing tasks such as signing documents or doing crossword puzzles.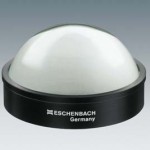 Bright field magnifiers have a calculated light guidance that directs all possible illumination onto the object. This provides a brighter field of view without an additional light source.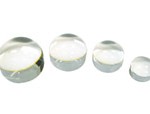 The Optelec PowerDome is available in 95mm, 80mm, 65mm, and 50mm while providing the user with 4X magnification. The easy-to-use magnifier has a concave bottom to preserve the viewing surface and comes with a soft case. The PowerDome is lightweight acrylic with excellent natural light gathering attributes. Whether you are looking for pocket size, or the widest field of view, the Optelec PowerDome gives you the options you want with the quality you need.