If you are looking for a transportable electronic magnifier that can be used for reading, seeing yourself up close and viewing things at a distance, then the Acrobat is the right low vision device for you
The Acrobat comes as a solid unit with an attached monitor or as a camera and arm that can be used with a computer, television or portable viewing panel.
The Acrobat family consists of the Acrobat LCD, Acrobat Long Arm, Acrobat Short Arm and the Acrobat Panel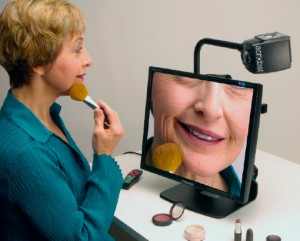 Acrobat LCD
It's our most flexible device for seeing at any distance. Just point the camera at what you want to see. Use it up close like a mirror for applying make-up or other personal grooming, or for magnifying things farther away. The Acrobat LCD with many built in features is a complete system for use at work, home or school.
Key Features
Auto focus 3-in-1 camera for seeing yourself up close, reading and distance viewing

True mirror image while in self-viewing mode

Memory settings for each camera position

Various arms and positioning options provides maximum flexibility

Detachable camera for use at multiple workstations

19″ or 22″ monitors provide up to 75x adjustable magnification

7 viewing modes to optimize contrast and brightness

Wrap around dual keypad allows easy access to controls

Computer compatible (Additional hardware required)

Optional rolling

carrying case

for easy transport

Left-hand mode

Line markers, object locator, remote control and more…

2 year warranty