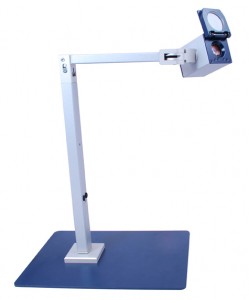 ClearNote Portable is ultra-slim and lightweight, yet it doesn't compromise power and features. You can connect to any desktop or laptop PC via the integrated USB port. As ClearNote Portable takes the power of your PC, you will never be without power.
Full control over brightness, contrast and color saturation, for use in any ambient light condition is possible. You can also capture and store as many images as you like for later reference. ClearNote Portable makes it possible to capture screenshots of a presentation or the classroom whiteboard.
Combining near and distance viewing with portability and flexibility make ClearNote Portable the ideal choice for use in the classroom, lecture hall or office.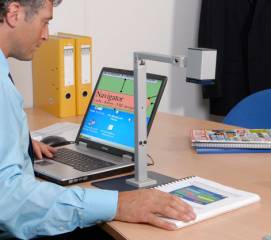 Features
Magnification:4X-40X
Viewing modes: full color, high contrast black / white, reverse mode, foreground and background color combinations
Optical zoom: 10X
Image capturing: Unlimited
Viewing options: adjustable image size, Picture-in-Picture, lines & windows, image rotation allowing, self-viewing
Focusing: Auto focus
Camera presets: 3 positions
Image control: Brightness, saturation, hue
Compatibility: Lunar, Lunar Plus, SuperNova, ZoomText
Connections: USB 2.0, VGA (optional)
PC requirements: Windows XP, Windows Vista
Weight: 2.5 lbs
Working height: 15.4″