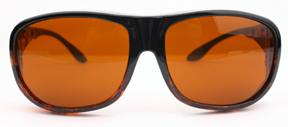 Solar Shields provide the wearer with eye protection against bright light such as sunlight. Solar shields are also useful for enhancing light when lighting conditions are dim or grey. Around the home, or on cloudy days yellow, orange or amber lens may provide additional lighting to your environment, whereas plum or gray lens may be more appropriate in well lit or bright environments.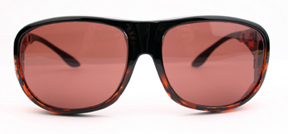 There are many solar sheild styles and colours. SolarShield® filters are available in five lens tints – gray, yellow, amber, orange and plum. SolarShield® contrast-enhancing filters are available in 3 frame sizes: Small, Medium (Oval) and Large. The small frame will fit clients who have smaller eyewear or who don't wear eyewear at all, while the medium and large sizes will comfortably fit over a client's standard eyewear.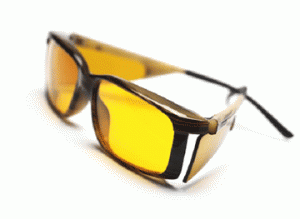 In the visible light that is part of the electromagnetic spectrum, blue light is the high energy, short wavelength light that can easily scatter as it crosses through different media in the eye, causing intra-ocular glare and reduction in contrast – which affects the ability to separate an object from its background. The polycarbonate lens of the Solar Shield provides medium range blue light filtering, which is ideal for contrast enhancement and improves visual acuity. It blocks 100% UVA/UVB light and 100% visible light between 400nm to 521nm depending on lens colour.
Call AbleTech to make an appointment to determine which Solar Shields would be most appropriate for your needs.