The ClearView+ magnifies text and photos with an average zoom range of 2.5X – 72X. Featuring true HD image quality, enabling excellent text overview and very smooth characters even at very low magnification levels. The advanced technology creates an optimal reading environment with smooth, crisp images decreasing eye fatigue. This means faster reading for longer periods of time.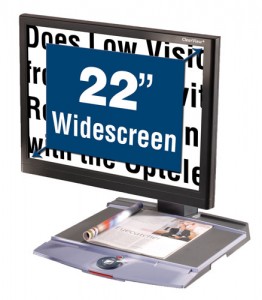 19″ or 22″ Ultra Flexible Arm System
Re-engineered for maximum comfort, functionality and image quality, nothing on the market compares. Mounted on an ultra-flexible arm, ClearView+ 19 and 22-inch monitors can be adjusted, tilted and positioned to eliminate glare providing a more comfortable reading position.
Our modular systems are available in High Definition (HD) and have the ability to add a Basic Feature Pack, Advanced Feature Pack, Zero Button Feature Pack or foot pedal for additional functionality.
Feature Packs
The ClearView+ is designed to be aesthetically pleasing in any environment. Sleek, durable and non-stigmatizing it easily fits into the home, office, or school setting. The ClearView+ offers a variety of options that can be tailored to meet any budget. Select the preferred ClearView+ system and then choose between multiple feature options shown below.
The Basic Feature Pack. Designed to bring you additional viewing options, the Basic Feature Pack includes 16 alternate color viewing modes and a position indicator to help improve reading.
The Advanced Feature Pack. With everything that the Basic Feature Pack has and more, the advanced feature pack will help bring the ClearView+ to its full potential. The Advanced Feature Pack includes 16 alternate color viewing modes, a position indicator, Picture-In-Picture technology (only accessible with a PC system) and an external PC switch.
The "Zero Button" Feature Pack. Taking ClearView+' one-button-simplicity a step further the ClearView+ can be upgraded with a "Zero Button" module. This upgrade automatically converts and displays text in the users preferred pre-set magnification and contrast. Regardless of the documents font size, the"Zero Button"displays the text in the preferred size. Simply rest your hands on the comfortable wrists pad, place your document on the xy-table and the ClearView+ takes care of the rest.
The PC Pedal. Combined with the Advanced Feature Pack, the PC Pedal will help you easily switch between the ClearView+ image and a PC image.