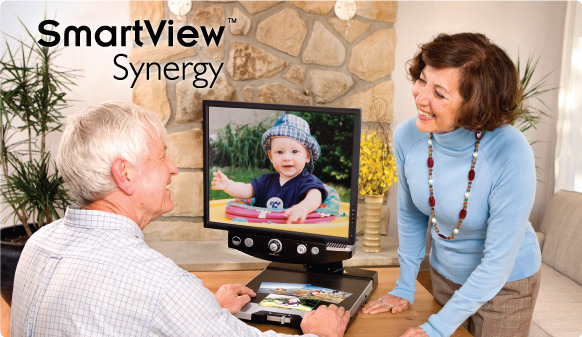 SmartView Synergy magnifies and enlarges text, objects and actions to help restore and maintain independence for people with macular degeneration, diabetic  retinopathy or other low vision eye conditions. The simple to use controls, the ability to configure the system to their needs and Synergy's high quality image lets people reclaim their everyday activities.
Helping every day
Enjoy reading a good book, the latest magazine, or today's newspaper
Stay healthy by ensuring medicine is taken correctly with instructions viewed at a size you can read
Keep the brain active by doing crosswords and Sudoku
Relax with that long-time hobby
Keep up with Grandchildren by viewing their latest photos
Read cookbooks while preparing meals
Verify your bank and investment statements
Simple controls, always within reach
Synergy's easy to use, intuitive controls are conveniently located right under the display. With one press of a button you can quickly change from showing the image in full colour to viewing text in an enhanced contrast mode. Use the precise zoom control to adjust the magnification in defined steps to level that best matches your needs.
Uncompromised Image
Synergy has been optimized to display a high quality image irrespective of the material being viewed. Whether reading a magazine page with one of the 16 enhanced contrast modes, looking at a colour picture, checking the ingredients on a can of soup or cutting your finger nails, Synergy provides a superior image. The 22″ wide screen display provides extra brightness without distortion.
Smooth Reading
The reading table provides smooth quiet movement in all directions. The simple, easy to use brake lets you lock the table in place in any location. By moving the same control only part of the way you can add additional friction to the table movements to help in following text from one line to the next.
Configurable to your needs
Synergy is available with a 19″ flat LCD monitor, a 22″ widescreen or for use with your own monitor or TV. The optional advanced control panel gives you the added features of a page locator light, lines and blinds and computer screen sharing. To best meet your viewing needs the LCDs can be easily adjusted up and down, swivelled left and right and tilted forward and back.